Regular price
£478.00 GBP
Regular price
£700.00 GBP
Sale price
£478.00 GBP
Unit price
per
Sale
Sold out
Product Core Data

Position: Mid Motor
Model No.: MM G320.1000.C
Bottom Bracket Size: 100mm
Support Wheel Size (Inch): 20 to 29
Nominal Voltage (Vdc): 48
Rated Power (W): 1000
Speed Limit (km/h): 52
Max Effective Torque (N.m): 160
Pedal Sensor: Cadence Sensor
Shaft Standard: JIS
Weight (kg): 5.6
E-Brake: Support
Throttle: Support
Tests and Certifications: IP X5/CE/EN 14764/ROHS
About the Chainring

Currently the product can only set 3 variants. So, this product defaults to send with chainring. Varstrom also provides other chainrings 36/44/46/48/52 tooth. If you want to change other chainring, you can send "#Order number + Chainrings" to Varstrom
Shipping Policy

Varstrom Shipping Policy

All orders are processed within 1 or 2 business days (excluding weekends and holidays) after receiving your order confirmation email. You will receive another notification when your order has shipped.

Delivered Duty Paid

All the product you can buy on Varstrom, we have paid the tax. So you don't need to pay extra money for the order.

Where Varstrom Can Reach

Varstrom had became Bafang Cooperation Brand since 2018. Over the past four years, we have built a very close relationship with Bafang Company. Varstrom has established a lot of warehouse around the word to make sure that all the customer will get their package as soon as possible.

European Union: Austria, Belgium, Bulgaria, Croatia, Cyprus, Czechia, Denmark, Estonia, Finland, France, Germany, Greece, Hungary, Ireland, Italy, Latvia, Lithuania, Luxembourg, Malta, Netherlands, Poland, Portugal, Romania, Slovakia, Slovenia, Spain, Sweden
United States: Alabama (AL), Arizona (AZ), Arkansas (AR), California (CA), Colorado (CO), Connecticut (CT), Delaware (DE), Florida (FL), Georgia (GA), Hawaii (HI), Idaho (ID), Illinois (IL), Indiana (IN), Iowa (IA), Kansas (KS), Kentucky (KY), Louisiana (LA), Maine (ME), Maryland (MD), Massachusetts (MA), Michigan (MI), Minnesota (MN), Mississippi (MS), Missouri (MO), Montana (MT), Nebraska (NE), Nevada (NV), New Hampshire (NH), New Jersey (NJ), New Mexico (NM), New York (NY), North Carolina (NC), North Dakota (ND), Ohio (OH), Oklahoma (OK), Oregon (OR), Pennsylvania (PA), Rhode Island (RI), South Carolina (SC), South Dakota (SD), Tennessee (TN), Texas (TX), Utah (UT), Vermont (VT), Virginia (VA), Washington (WA), West Virginia (WV), Wisconsin (WI), Wyoming (WY)
United Kingdom: British Forces, England, Scotland, Wales
Canada
Australia
Asia: China, Hong Kong SAR, Japan, Malaysia, Singapore, South Korea, Taiwan, Thailand, Vietnam

Varstrom Delivery Time

Once we receive order, we will process the ordered and send the products to the customer from the nearest warehouse in 24 hours. Depending on the distance of the region from the shipping warehouse, the express time may take 6 to 8 days. The following table shows 95% of our order delivery schedule for reference.

| Regions | Delivery Time |
| --- | --- |
| United States | 3 to 7 business days |
| United Kingdom | 2 to 4 business days |
| European Union | 3 to 8 business days |
| Canada | 3 to 6 business days |
| German | 2 to 4 business days |
| France | 2 to 4 business days |
| Poland | 2 to 4 business days |
| Australia | 3 to 5 business days |

Shipping Tracking

Once the product is shipped from the warehouse, the system will automatically send a tracking number to customer, you can use it to check where is the package. If customers cannot find their tracking number, please find us through the contact information and we will help you find where the products are.

Shipping costs are non-refundable.

Our motor kits and batteries require signature confirmation for delivery. If delivery is refused, shipping costs are non-refundable and a 10% restocking fee will be deducted (this will be withheld from any refund).

For returning an item, you will be responsible for paying for your own shipping costs and original shipping costs are non-refundable. For returns of products over $50, we recommend that you use shipping service can be tracked or purchase shipping insurance. We don't guarantee that we will receive your returned item.

We can only guarantee delivery of purchases when there are no changes or modifications during shipment. Any purchases made from our company in which a customer decides on their own accord to make any modifications directly with the shipping company (FedEx or USPS) during shipment (including but not limited to; delivery address changes, hold and or pick up requests), our company is no longer able to guarantee delivery and is not responsible for lost packages. We can only guarantee delivery of orders purchased through our company and shipped to the address which was originally provided at purchase. If any modifications are made by the customer on their own accord during the shipment process we are no longer responsible for any delivery delays or lost packages.

How to Contact Varstrom

Company Address: Room 408B, 4/F, Lippo Sun Plaza, 28 Canton Road, Tsim Sha Tsui, Kowloon, Hong Kong SAR

Email: kong@varstrom.com

WhatsApp: +852 5262-0386
Share
View full details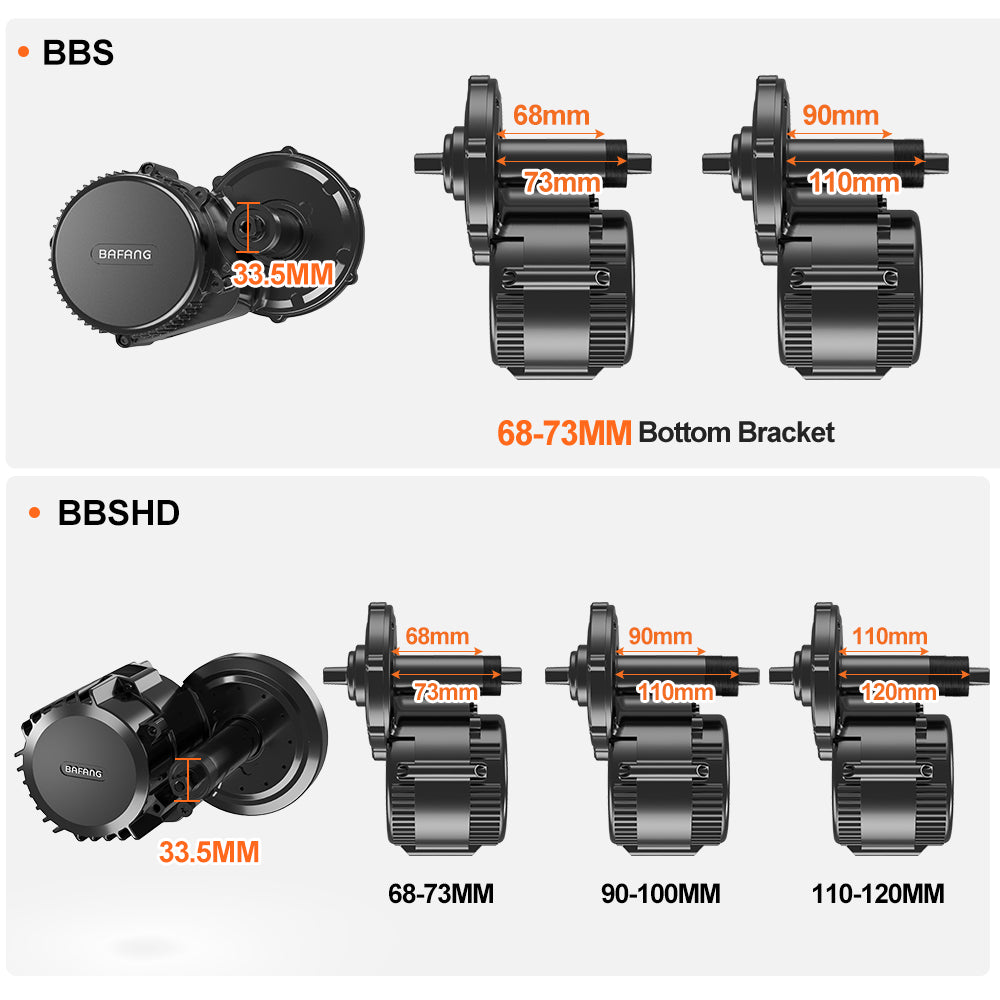 Will BAFANG BBS Fit to My Bike?
BAFANG BBS motors have a bottom bracket shaft diameter of 33.5mm and are designed to fit into the bicycle bottom bracket standard known as JIS or Japanese Industrial Standard. JIS is one of the international bicycle standards which is very similar to standard in the US commonly referred to as "square tapered spindle", ISO/English, BSA, British, or "threaded". Available in 4 widths, 68/73/100/120mm. If the bottom bracket inside diameter of your bike is 33.6mm to 36.0mm. All you need to do is order a motor in the correct width.
Get the Measurement Chart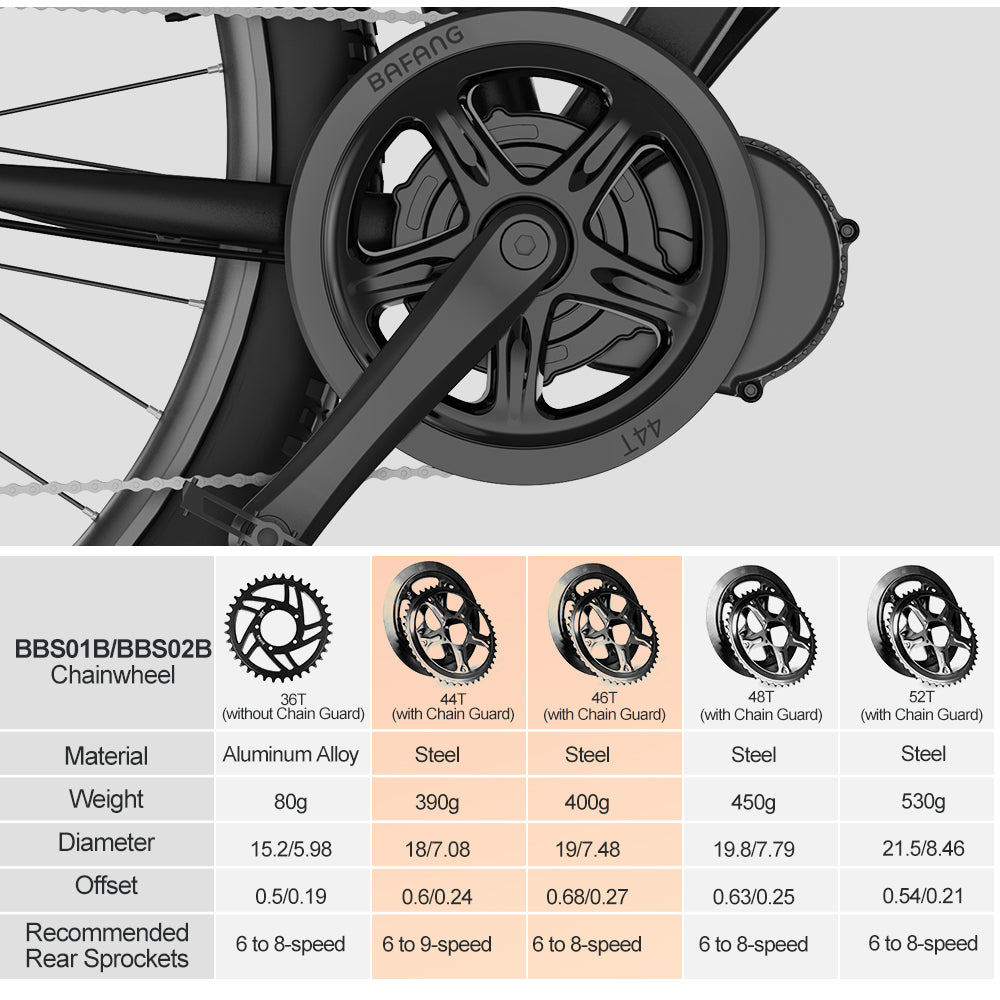 The Chainring
Varstrom offers 36/44/46/48/52T chainrings for BAFANG BBS mid-drive kits.

Warm Tip: The default chainring options are 44T or 46T. If you wish to change to another chainring, Please send us your order ID and tell us the Chain Wheel size you want, we will ship the chainring you want.
eBike Display
Varstrom offers a wide range of e-bike displays, the small and compact displays, the horizontal or vertical screen, functional or multifunctional. You can choose the appropriate instrument according to the function you need. If you want to learn about our displays, you can click the links to visit the pages of our displays for more information.
BAFANG eBike Displays: BAFANG DP C181, BAFANG DP C18, BAFANG C961.
Varstrom eBIke Displays: Touch T1, P860C, EDK001, B750C, P850C, 850C, 500C, 500C-V, DM03, 800S.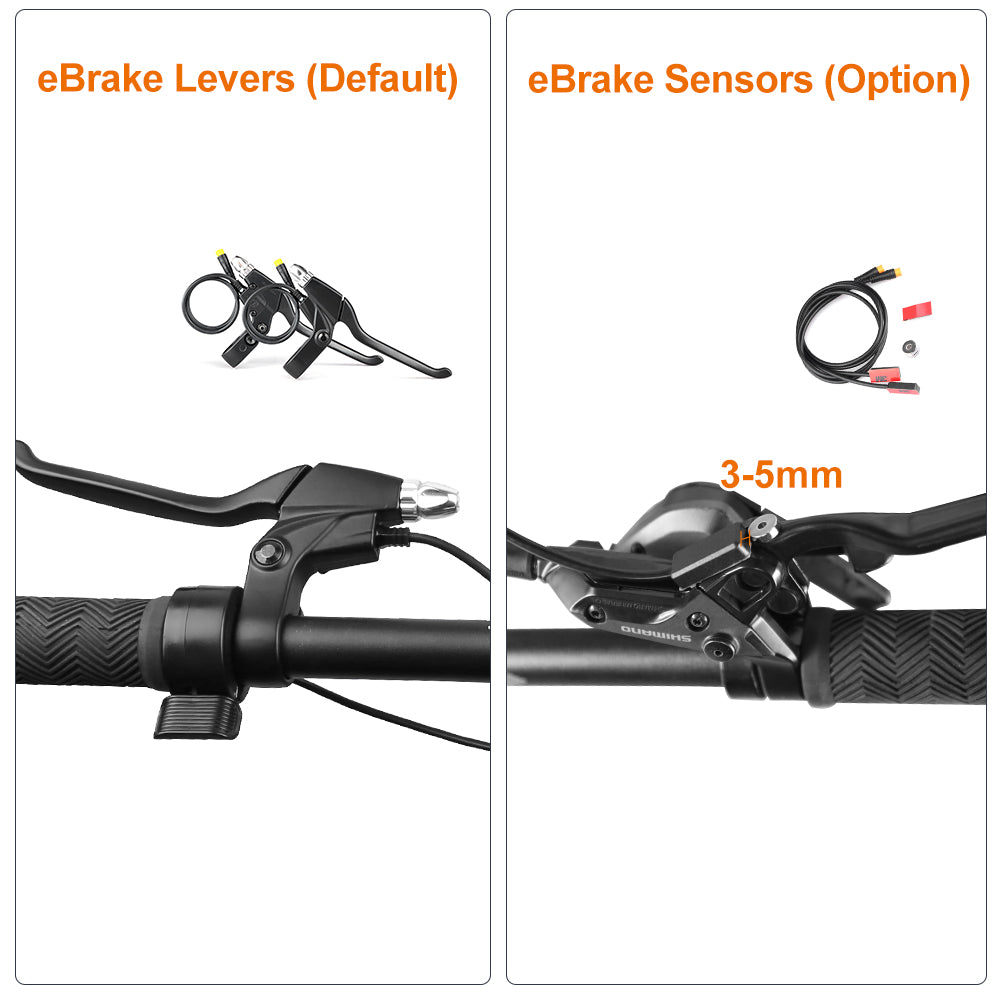 eBrake Options
eBrake Levers are the default option for the BAFANG Mid Drive Kits.

eBrake Sensors are the option when you want to keep your original hydraulic or mechanical brakes on your bike.

Warm Tip: Please send us your order ID and tell us you want the eBrake Sensors after purchasing, and we will send you ebrake sensors with the electric bike kit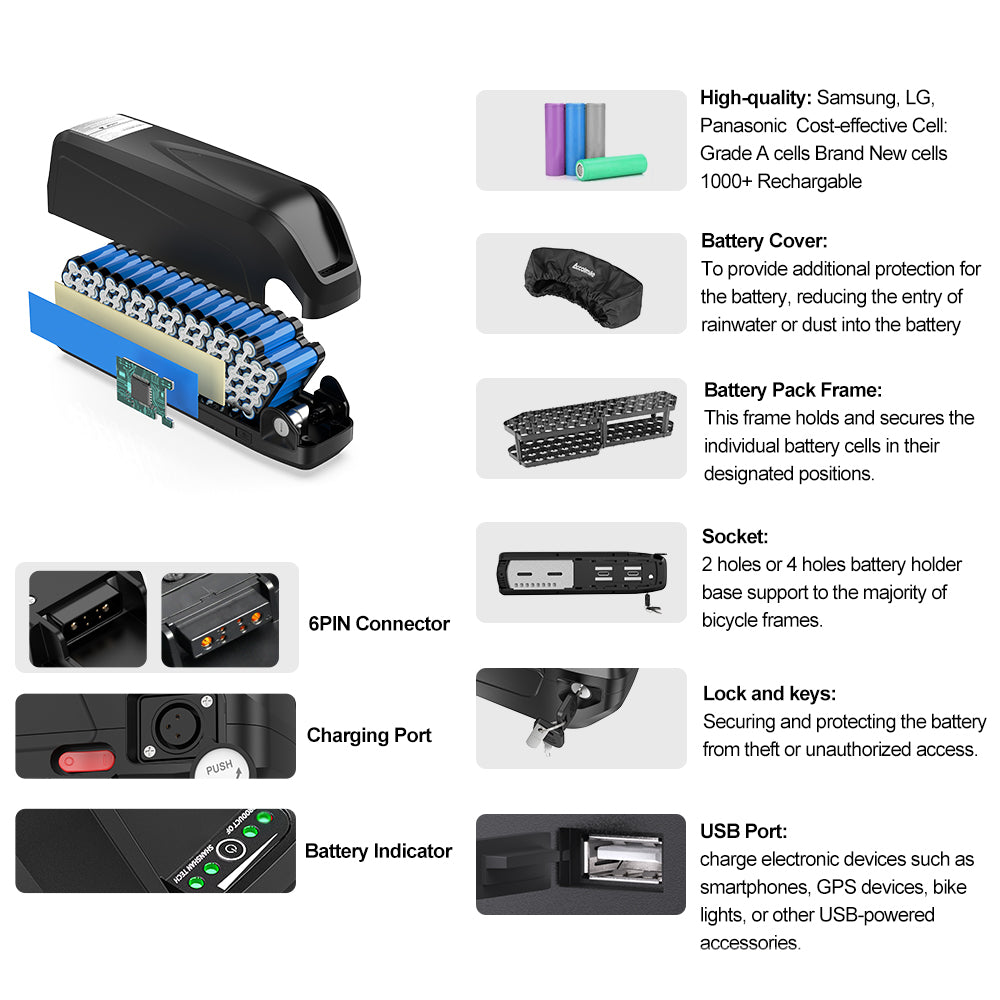 eBike Battery
Varstrom offers multiple series and capacities of batteries, such as HAILONG, HAILONG Max, YINGWU and Rear Rack Battery with charger. You can choose the battery you want by refering to the battery sizes, capacities, cells.
BAFANG BBS allows you to use your own battery. Make sure the voltage of your battery is stable and match to the voltage of the motor.
HAILONG

Installation Size (in/mm):
14.5*3.5*4.3 (368*91*111)

Capacity:
36V 17.4Ah (Grade A Cells)
36V 15.6Ah (Grade A Cells)
36V 21.0Ah (LG Cells)
48V 13.0Ah (Grade A Cells)
48V 17.5Ah (LG/Panasonic Cells)

HAILONG MAX G80

Size (in/mm):
14.5*3.5*5.0 (368*91*128)


Capacity:
36V 20.0Ah (Grade A Cells)
36V 25.0Ah (Grade A Cells)
48V 18.0Ah (Grade A Cells)
48V 20.0Ah (Samsung Cells)

YINGWU

Size (in/mm):
14.4*3.7*4.9 (365*93*124)

Capacity:
48V 13.0Ah (Grade A Cells)
52V 19.2Ah (LG Cells)

Rear Rack Battery

Size (in/mm):
18.3*6.3*3.1 (465*160*80)

Capacity:
48V 17.5Ah (Grade A Cells)
52V 17.5Ah (Grade A Cells)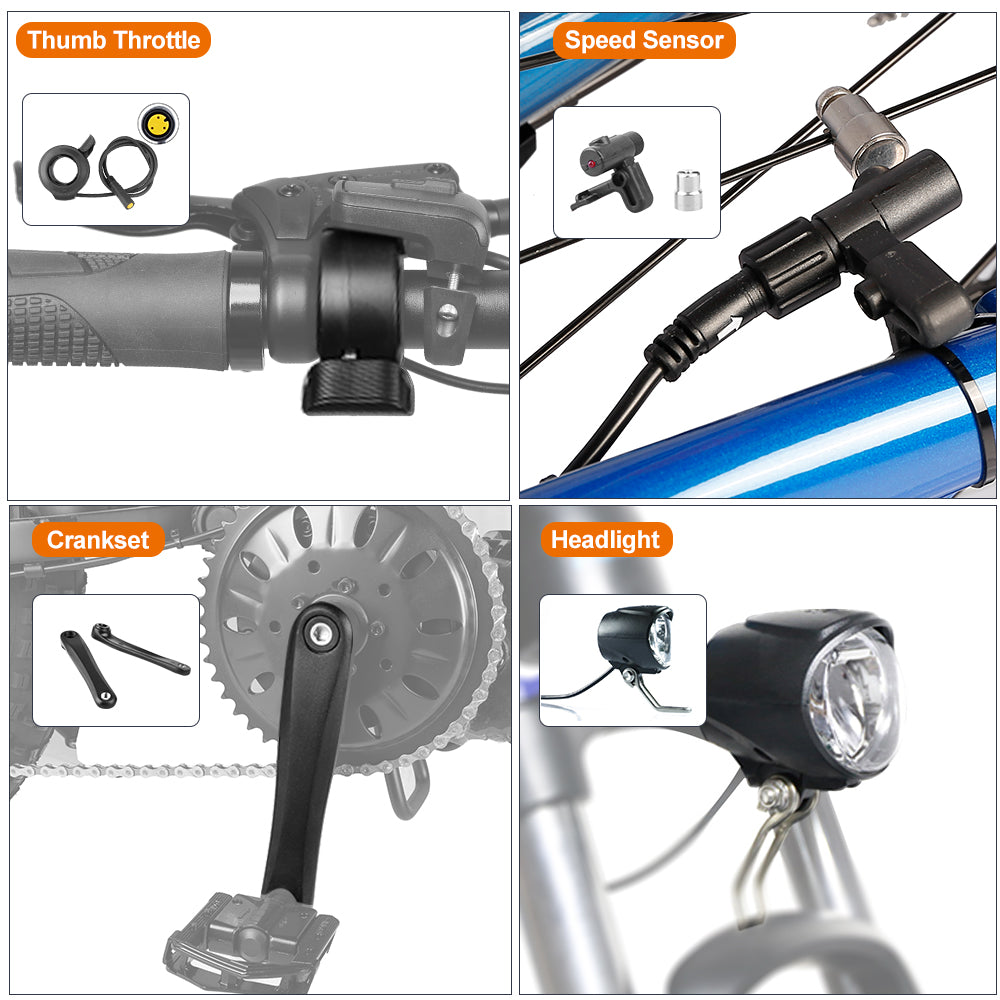 Other Accessories
Thumb Throttle
Speed Sensor
Crankset
Headlight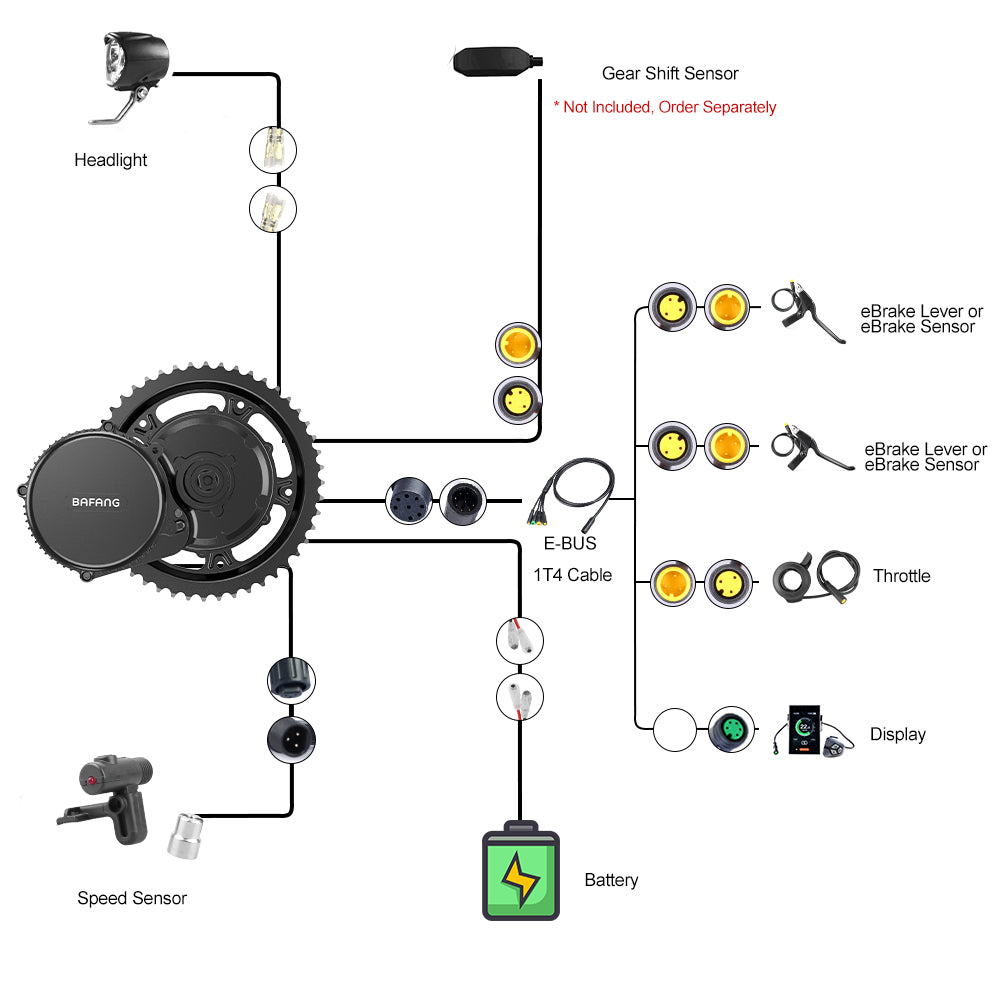 Wire Diagram
Controller - 1T4 Cable
Controller - Speed Sensor
Controller - Headlight
Controller - Battery
Controller - Gear Shift Sensor (Not Included)
1T4 Cable - Display
1T4 Cable - eBrake Levers or eBrake Sensors
1T4 Cable - Throttle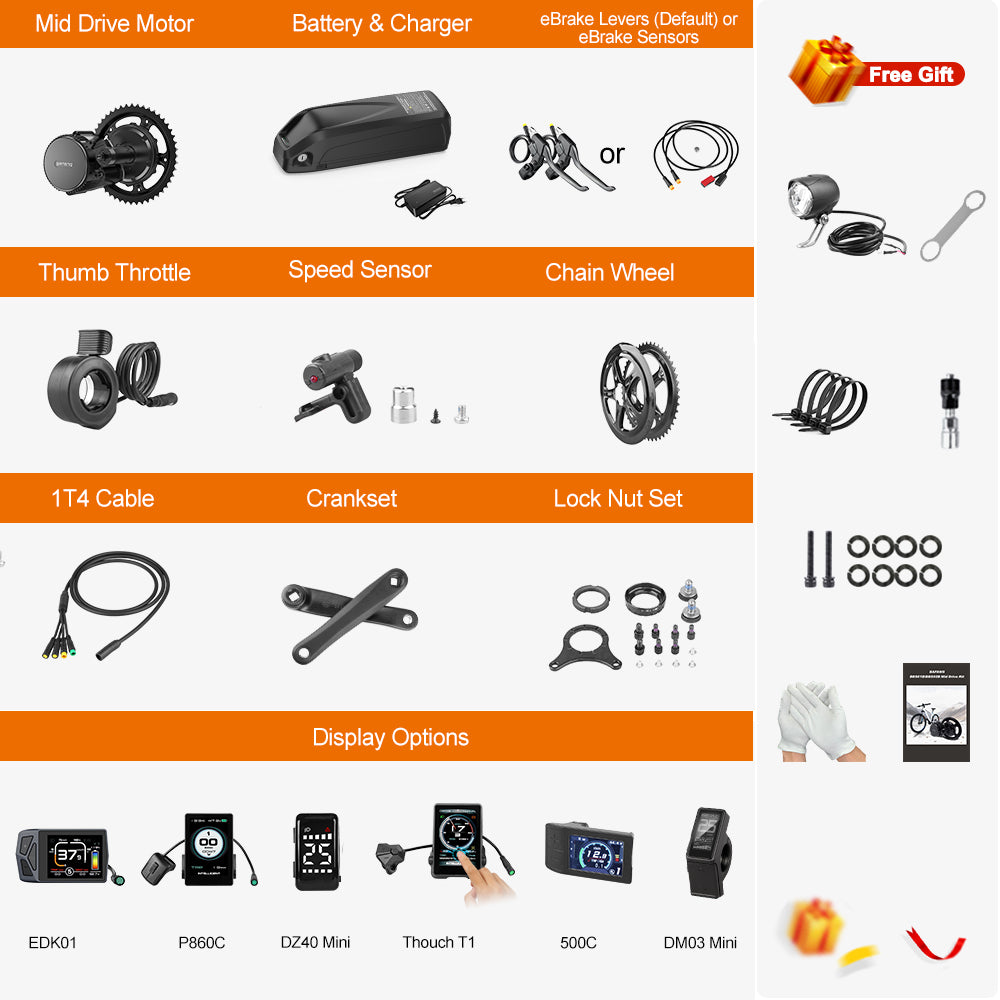 Package Included
Mid Drive Motor
Display (Options)
Battery (Options)
eBrake Levers or eBrake Sensors
Thumb Throttle
Speed Sensor
Chain Wheel
1T4 Cable
Crankset
Lock Nut Set
Gift Set